A Software Engineering Kit – Composed of Templates for Key Software Engineering Process Plans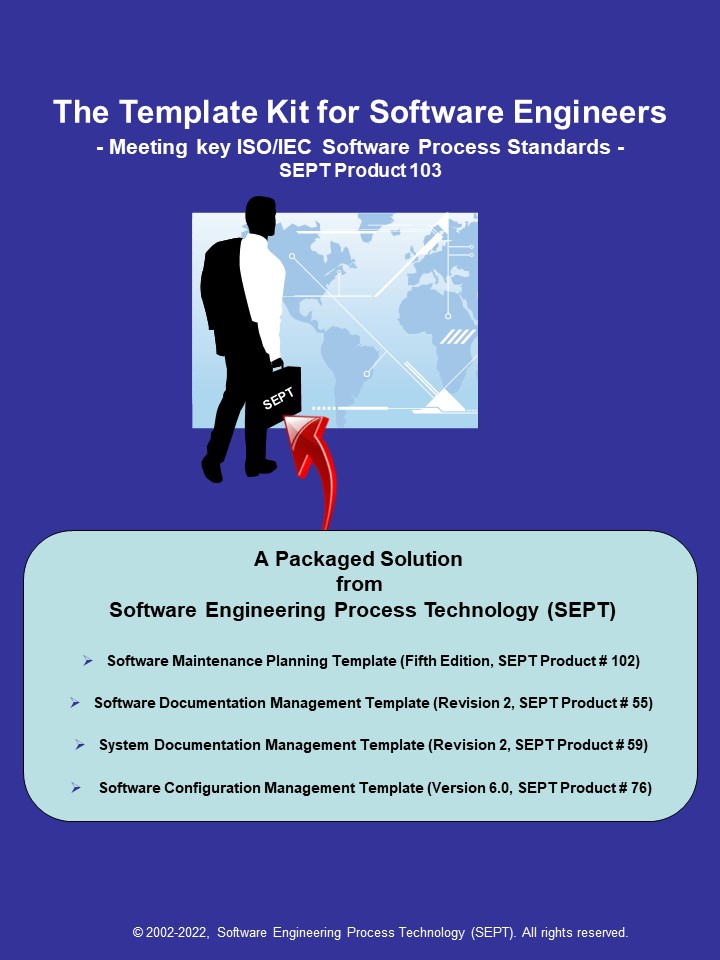 Abstract:
Available
Authors:
Andy Coster, CCP, Stan Magee CCP (Ret.) John Neorr
Cover:
Available
Customer Set for this product:
Software engineering and system engineering firms and firms that have large and complex software or systems
Format:
PDF (
Click here
for our easy-to-modify Word® formatted version)
Language:
English
Page count of document:
400+
Provider:
SEPT
Shipping:
Available for download - Link will be provided in My ComplianceOnline section
Price: $298.00
Product Details
SEPT customers asked for a kit containing templates for the most popular software and system process. These firms wanted templates that software professionals at all levels could use to produce effective, standards-compliant plans. After doing due diligence SEPT has selected the following templates to meet this need. This kit offers a savings of 50% off their individual template price.
This kit contains the following Software Engineering Templates





This product supports these Software Engineering processes
Acquisition
Code and Test
Configuration Management
Design
Documentation
Integration
Life Cycle
Maintenance And Operation
Metrics
Process Improvements
Project Management
Quality
Requirements Definition
Safety
Security
Verification And Validation
Customers of this product:
Chuoutokkyo Company, Japan
American Opti Surgical Inc
Barclays Global Investors
Bio-Rad Laboratories
Biosynthetic, Canda
CONTRINEX SA
DHSS
distinction.co.nz
EmWIB Technologies, India
Haemonetics Corporation
Integrated Systems Solutions
Omnigon
PV Labs Inc., Canada
Salmat Business Force
Seabrook, Ireland
Shearwater Research Inc., Canada
Skyllaeng
Techmatrix Co, Japan
Technica Corp
Wagner-Biro Luxembourg Stage Systems S.A., Luxembourg
Note: "International Standards (ISO) define the best of practices for Medical Device and Software firms in producing a quality product. This checklist that SEPT produces will ensure that all of the best of practices are adhered to."