Overtime: California Style for 2019
This training program will discuss the wage and hour requirements for calculating and paying overtime in the state of california. The course will elaborate the requirements for calculating overtime and double time in California to ensure compliance with the state's wage and hour laws.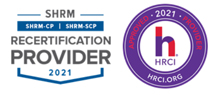 Course "Overtime: California Style for 2019" has been pre-approved by SHRM as eligible for 1.5 credits and HRCI as eligible for 1.5 credits towards a participant's recertification upon full completion.
The use of this seal is not an endorsement by the HR Certification Institute of the quality of the program.
Learning Objectives:
For the attendee to understand the requirements for calculating overtime and double time in California to ensure compliance with the state's wage and hour laws.
To ensure that those attending have a sound knowledge of the terms used in wage and hour law regarding paying overtime such as "regular rate of pay", "workweek" "fluctuating workweek" and "alternative workweek".
To explain the calculations needed for when an employee is paid different rates of pay within the same workweek and is due overtime pay. To discuss the requirements for compensatory time off as opposed to make-up time and explain the difference between the two under California law.
To show where California follows the federal standards and where it differs and how to determine which has priority.
Areas Covered in the Webinar:
Overtime: CA has daily and weekly overtime and daily and weekly double time. Learn how to determine when its straight time, overtime or double time and how to calculate it
The definition of a workweek and a workday and their effects on calculating overtime
Alternative workweeks: Are your employees eligible to have alternative workweeks and are you required to offer them
What are considered hours worked
How does California require employers to calculate the regular rate of pay
Do the eight exceptions to inclusion of payments in the regular rate of pay under the FLSA also apply in California
Compensatory time instead of overtime—is it permitted in CA
Handling make-up time properly
What to do when an employee is paid two or more rates in a work week
Overtime for piece workers and commissioned employees
What is California's policy on fluctuating workweeks and overtime pay
Are meal and rest period sanctions included in the regular rate of pay
Tip credit and compulsory service charges and their effect on overtime
Wage orders and their requirements for overtime
Overtime and agricultural workers
Who Will Benefit:
Payroll Executives/Managers/Administrators/Professionals/Practitioners/Entry Level Personnel
Human Resources Executives/Managers/Administrators
Accounting Personnel
Business Owners/Executive Officers/Operations and Departmental Managers
Lawmakers
Attorneys/Legal Professionals
Any individual or entity that must deal with the complexities and requirements of Payroll compliance issues
Instructor Profile:

Vicki M. Lambert
Payroll Authority and Instructor, The Payroll Advisor
Vicki M. Lambert, CPP is president and academic director of The Payroll Advisor™ a firm specializing in the training of payroll professionals. With over 35 years of hands-on experience in all facets of payroll functions as well as over 20 years as a trainer and author, Ms. Lambert is a sought-after and respected voice in the practice and management of payroll issues. She has conducted open market training seminars on payroll issues across the United States that have been attended by executives and professionals from some of the most prestigious firms in business today.
Ms. Lambert has lectured extensively on payroll administration and compliance issues for clients that have included Automatic Data Processing, CCH Incorporated, Ceridian Employer Services, and The Employer Group. Ms. Lambert has also served as a consultant and in-house trainer for businesses such as Sun Microsystems, Paychex, Fox Studios, Disney, County of Riverside, and City of Hesperia.
Topic Background:
California—the Golden State has a style all its own. That is certainly true when it comes to calculating overtime. One of only four states that require daily overtime it also requires employees to be paid double time on a daily and weekly basis. With arguably the greatest number of requirements to pay overtime on the books of any state, processing payroll and keeping in compliance with California overtime rules can be a complex situation. In addition to laws that are strictly Californian, the Federal wage and hour laws may also apply. For example California does not have its own definition of regular rate of pay or workweek but follows the federal. So the person processing payroll in the state must understand not only California's overtime requirements but the federal as well.

Refund Policy
Registrants may cancel up to two working days prior to the course start date and will receive a letter of credit to be used towards a future course up to one year from date of issuance. ComplianceOnline would process/provide refund if the Live Webinar has been cancelled. The attendee could choose between the recorded version of the webinar or refund for any cancelled webinar. Refunds will not be given to participants who do not show up for the webinar. On-Demand Recordings can be requested in exchange.
Webinar may be cancelled due to lack of enrolment or unavoidable factors. Registrants will be notified 24hours in advance if a cancellation occurs. Substitutions can happen any time.
If you have any concern about the content of the webinar and not satisfied please contact us at below email or by call mentioning your feedback for resolution of the matter.
We respect feedback/opinions of our customers which enables us to improve our products and services. To contact us please email customercare@complianceonline.com call +1-888-717-2436 (Toll Free).
Product Reviews
This product hasn't received any reviews yet. Be the first to review this product! Write review