Strategic Planning
Provide competitive manufacturing knowledge via self-paced e-learning for anyone... everyone... anywhere... anytime.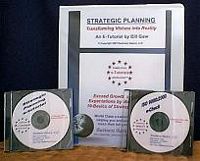 Provider:
Business Basics
Shipping:
Available for download - Link will be provided in My ComplianceOnline section
Price: $495.00
Product Details
If your company has never developed nor deployed a strategic plan, now is the time to do it. To remain competitive in the 21st century demands it. This Strategic Planning and Tactical Execution e-Tutorial can be your "bible" and roadmap for successful strategic planning and the implementation of competitive strategies, objectives and critical success targets.