Supply Chain Management
Provide competitive manufacturing knowledge via self-paced e-learning for anyone... everyone... anywhere... anytime.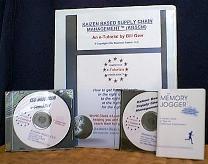 Provider:
Business Basics
Shipping:
Available for download - Link will be provided in My ComplianceOnline section
Price: $395.00
Product Details
What will you get when you order the Supply Chain Management e-Tutorial? You will have access to the supply chain tools and techniques that companies around the globe use every day to increase productivity and earn more profits.