The Japanese Path To Maintenance Excellence
Japanese management style applied to maintenance!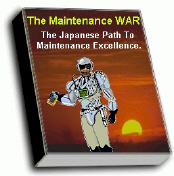 Provider:
BIN
Shipping:
Available for download - Link will be provided in My ComplianceOnline section
Price: $15.00
Product Details
Compiled after a visit by author Mike Sondalini to a World Class Japanese Chemical Manufacturer's process manufacturing plant last year. 
This e-book is about the Japanese management style applied to asset management and maintenance. If you think you already have a good system then you will enjoy reading it as you compare yours to the Japanese management style. If you have a poor system then you will get a totally different view of how great maintenance can be done.
A quote from the author ...
"The part that really excited me was when the Japanese explained in detail, with sketches and flow charts, how they destroyed and eradicated maintenance! The simplicity and sense in their methods was a wonder to behold. They were very kind hosts, and wonderful teachers. Everything they told me is now in the ebook."
You must never accept equipment failure as normal – it can be stopped.
Product Reviews
This product hasn't received any reviews yet. Be the first to review this product! Write review